The boss,
Ancient Light Dragon, Laphroaig, is the fourth Technical Dungeon in the Ancient Dragon series. The dungeon has "Int", "Expert", "Master", and "Legend" difficulty levels. This is the first Tricolor dungeon limited to "Water/Wood/Dark" orbs.
Monster Data
No. 444
Ancient Light Dragon, Laphroaig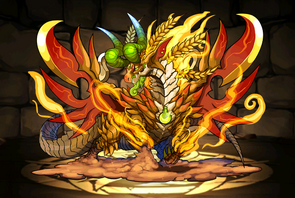 No Evolution Needed
Skill




L. Skill



HP





Attack


Recover



Overall





A well-balanced dragon. With maxed skill, it deals 25000 damage to all enemies in only 4 turns. The leader skill (only 2x ATK with a trigger condition) is not very useful. Overall, very powerful as a sub.
Shining Island-Legend
50
30162-33352

(635/Sta)

10
18385-20000

(384/Sta)

200000
Harpie Demon
5550
1
51150
2200
Lv10

Volt Chimera
7890
2
36000
500
Lv10

Gold Moltdra
7440
2
90750
100
Lv10

Blood Devil
3690
1
19800
1400
Lv10


Anger ATK→4797 for 3 turns.
40% chance

Divine Onyx Mask
9999
6
18
60000
Lv1


Invade

Unicorn, the Guardian of Saints
13664
2
256505
322
Lv7
100%

5
Hellray Harpie Demon
6903
1
570556
800
Lv5

5
Helldark Blood Demon
7000
1
574028
800
Lv5

9
Witch of the Night, Lilith
12060
1
677700
900
Lv10

10
Ancient Light Dragon, Laphroaig
3420
1
4909800
0
Lv10
100%


Sun Power ATK→17100 for 999 turns.
HP75%↓ 100% chance
Shining Island-Master
40
25250-29464

(684/Sta)

10
16101-17653

(422/Sta)
Harpie Devil
3213
1
17539
1260
Lv9


Anger ATK→4177 for 3 turns.
40% chance

Harpie Demon
4954
1
45656
1980
Lv9

Volt Chimera
7043
2
32133
450
Lv9

Gold Moltdra
6641
2
81003
90
Lv9

Divine Gold Mask
9999
6
18
60000
Lv1


Invade

Unicorn, the Guardian of Saints
13664
2
256505
322
Lv7
100%

5
Thunder Chimera×2
10045
2
575840
980
Lv7

9
Messenger of God, Archangel
11160
1
647700
900
Lv10

10
Ancient Light Dragon, Laphroaig
2318
1
3300477
0
Lv7
40%


Sun Power ATK→11590 for 999 turns.
HP75%↓ 100% chance
Shining Island-Expert
25
15104-17064

(643/Sta)

10
7833-8783

(332/Sta)
White Knight
3579
2
17690
189
Lv7

Harpie Devil
2440
1
13318
980
Lv7


Anger ATK→3172 for 3 turns.
40% chance

Harpie Demon
3762
1
34668
1540
Lv7

Gold Moltdra
5043
2
61508
70
Lv7


Invade

Unicorn, the Guardian of Saints
2837
2
53263
92
Lv2
100%

5
Sundragon Pterados
5043
1
174358
315
Lv7

9
Cupid×2
732
2
8947
56
Lv7

9
Angel
5730
2
166800
240
Lv10

10
Ancient Light Dragon, Laphroaig
481
1
618271
0
Lv2
5%


Sun Power ATK→2405 for 999 turns.
HP75%↓ 100% chance
Shining Island-Int
15
3920-4080

(267/Sta)

5
2163-2273

(148/Sta)
White Fighter
528
3
2292
50
Lv5

Harpie Devil
1667
1
9097
700
Lv5


Anger ATK→2167 for 3 turns.
40% chance

Gold Moltdra
3444
2
42014
50
Lv5


Invade

Unicorn, the Guardian of Saints
672
2
12615
46
Lv1
100%

5
Ancient Light Dragon, Laphroaig
114
1
81830
0
Lv1
2%


Sun Power ATK→570 for 999 turns.
HP75%↓ 100% chance
Biweekly Dungeon
---
Insect Dragon
---
Dragon Princess
---
Flower Dragons
---
Pirate Dragons
---
Artifact Dragons
---
Samurai Dragons
---
Ancient Dragons
---
Mechdragons
---
Sky Dragons
---
Legendary Dragons
---
---
Twitter Survey
---
Others