Challenge Mode was added in the Version 6.2 update, and removed in the 16.0 update, along with Coin Dungeons. It was an opportunity for players to obtain an additional batch of Magic Stones out of the Normal and Technical Dungeons.
Info
[
]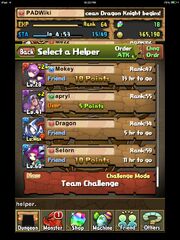 Once you cleared the Technical Dungeon Castle of Satan in the Abyss, Challenge Mode became available for all Normal and Technical Dungeons that you've beaten. A star icon next to the dungeon name would. indicate whether you've cleared its Challenge Mode or not.
In order to enter a dungeon in Challenge Mode, you had to scroll down to the bottom of the friend selection screen and choose "Tri-Monster Challenge".
Everything about the dungeon was exactly the same, with one exception: You could bring no more than three monsters into the dungeon, plus one helper.
Strategy
[
]
There isn't much strategy beyond simply compensating for the two missing monster slots, but here are some general strategies left over from the old version of Challenge Mode.
| Ver | Team | HP | Stones | Notes |
| --- | --- | --- | --- | --- |
| N/A | | N/A | N/A | You don't necessarily need to have all 6 Odins, but the more HP and Auto-Recovers, the better. If all Awokened, this team is pretty foolproof. |
| N/A | | N/A | N/A | Once you get their Active Skills ready, they can take turns protecting you indefinitely. can give you even more breathing room, but who's got him up as a leader? |
| N/A | | N/A | N/A | Ronia is her own best Sub, after all. This team is not as much of an auto-win as the ones above, but it's relatively easy to assemble due to her popularity as a leader these days. |