The sixth dungeon designed based on Twitter player surveys. You can pick up the very popular

Pierdra.
Dungeon History
| Dates | Notes |
| --- | --- |
| November 25-December 7, 2013 | A Spectacular Thanksgiving Event |
| December 28-30, 2013 | Merry Christmastide! |
Monster Data
No. 761
Jester Dragon, Drawn Joker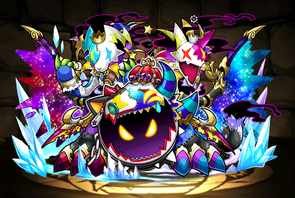 Skill




HP


Attack


Recover



Overall





Once skilled up, becomes a vital part of Dark and Devil teams due to its orb changing ability. Also occasionally useful for Dark/Water 50% resist Leader Skill.
Monster Skill Table
Some monsters in this dungeon can be used to level up the skills of other monsters. See Monster Skills for info.
Jester Dragon-Expert
15
3864-5340

(307/Sta)

5
1982-2500

(149/Sta)

230,000
Blood Devil
1708
1
9167
700
Lv5

Blood Demon
2583
2
24375
1100
Lv5

Wicked Lady
1355
2
7742
48
Lv3


Rare

Pierdra
1429
1
74742
168
Lv3

5
Drawn Joker
4243
1
242689
420
Lv3

Jester Dragon-Int
15
2416-3472

(196/Sta)

5
1125-1529

(88/Sta)
Blood Devil
916
1
4913
420
Lv3

Blood Demon
1385
2
13065
660
Lv3

Wicked Lady
1355
2
7742
48
Lv2


Rare

Pierdra
811
1
42391
112
Lv2

5
Pierdrawn×2
1735
2
79462
196
Lv2

Jester Dragon-Novice
15
852-1112

(65/Sta)

5
434-510

(31/Sta)
Blood Devil
123
1
660
140
Lv1

Blood Demon
186
2
1755
220
Lv1

Wicked Lady
182
2
1040
16
Lv1


Rare

Pierdra
192
1
10040
56
Lv1

5
Pierdrawn
1735
2
79462
196
Lv2

Biweekly Dungeon
---
Insect Dragon
---
Dragon Princess
---
Flower Dragons
---
Pirate Dragons
---
Artifact Dragons
---
Samurai Dragons
---
Ancient Dragons
---
Mechdragons
---
Sky Dragons
---
Legendary Dragons
---
---
Twitter Survey
---
Others