This is the first in the Mechdragon series, and was the first Technical Dungeon to appear as a Special Dungeon. The Technical Dungeon Master/Legend levels are much harder than normal Master/Legend difficulties, so please approach with caution if you are short on strength/Magic Stones.
With the addition of the Chasers, this is now a single Technical dungeon which may be cleared for a

even if a

was obtained for clearing the original dungeon configuration.
Monster Data
No. 283
Fire Mechdragon, Betelgeuse






 No Evolution Needed
Skill


L. Skill



HP





Attack




Recover

Overall





Legendary dragon with exceptional HP and very high ATK. Main skill is quite good even if not leveled up. Leader skill is not very useful due to many other similar skills.
No. 897
Flame Chaser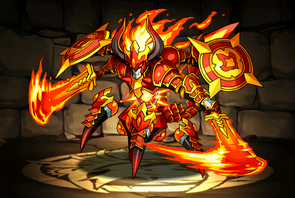 Skill




HP



Attack



Recover

Overall


Monster Skill Table
Some monsters in this dungeon can be used to level up the skills of other monsters. See Monster Skills for info.
Flame of Conviction-Legend
50
30960-33480

(644/Sta)

10
18405-19455

(379/Sta)

120000
Samurai Ogre
13500
3
61500
0
Lv10

Pyro Demon
5460
1
46650
2200
Lv10

Flame Chimera
7650
2
34500
500
Lv10


Rare

Mystic Flame Knight
6480
3
76350
900
Lv10


Invade

Flame Chaser

Skill

1
647400
4800
Lv10
100%


Chase Mode ATK→10920 for 5 turns.
HP50%↓:100% chance.

5
Magma Chimera
14580
2
842100
1400
Lv10

9
Mars Light Carbuncle×2
11024
2
354747
960
Lv8


Cure Heal 50%.
HP30%↓:50% chance. 1 time max.

10
Fire Mechdragon, Betelgeuse
15570
2
1133400
1120
Lv10
100%

Flame of Conviction-Master
40
21180-23300

(556/Sta)

10
12472-13504

(325/Sta)
Samurai Ogre
9150
3
41683
0
Lv7

Pyro Demon
3701
1
31618
1540
Lv7

Flame Chimera
5185
2
23383
350
Lv7


Rare

Mystic Flame Knight
4392
3
51748
630
Lv7


Invade

Flame Chaser

Skill

1
438793
3360
Lv7
100%


Chase Mode ATK→7402 for 5 turns.
HP50%↓:100% chance.

5
Magma Chimera
9882
2
570757
980
Lv7

9
Mars Light Carbuncle×2
6500
2
209167
600
Lv5


Cure Heal 50%.
HP30%↓:50% chance. 1 time max.

10
Fire Mechdragon, Betelgeuse
10553
2
768193
784
Lv7
40%

Flame of Conviction-Expert
25
6216-6616

(257/Sta)

7
3412-3597

(140/Sta)
Ruby Carbuncle
426
2
1308
28
Lv2

Flame Fighter
895
3
2944
80
Lv2

Flame Knight
692
1
3356
54
Lv2


Invade

Flame Chaser
768
1
91116
960
Lv2
100%

5
Naga×2
375
2
5416
40
Lv5

Echidna
2333
2
66805
120
Lv5

7
Fire Mechdragon, Betelgeuse
2191
2
159516
224
Lv2
5%

Flame of Conviction-Int
15
2024-2496

(151/Sta)

5
1239-2420

(122/Sta)
Ruby Carbuncle
101
2
310
14
Lv1

Flame Fighter
528
3
1736
50
Lv5

Flame Knight
164
1
795
27
Lv1


Invade

Flame Chaser
182
1
21580
480
Lv1
100%

5
Fire Mechdragon, Betelgeuse
519
2
37780
112
Lv1
2%

Biweekly Dungeon
---
Insect Dragon
---
Dragon Princess
---
Flower Dragons
---
Pirate Dragons
---
Artifact Dragons
---
Samurai Dragons
---
Ancient Dragons
---
Mechdragons
---
Sky Dragons
---
Legendary Dragons
---
---
Twitter Survey
---
Others