Characteristics
Team must all have five elements
This dungeon is the first of the War Dragon series, as well as being the first conditional biweekly dungeon. This dungeon's condition is that your team must contain monsters with main type of all five elements. The dragon in this dungeon is named after the Sengoku-era warlord Takeda Shingen.
Monster Data
No. 540
Fire Samurai Dragon, Shingen






 No Evolution Needed
Skill



L. Skill



HP





Attack




Recover

Overall





High HP and ATK, decent RCV, plus a strong active skill makes the War Dragons outstanding Subs. They're fairly useless as leaders, with neither a remarkable multiplier nor condition.
No. 681
Manekimewdra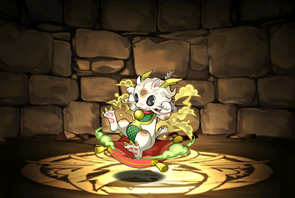 No Evolution Needed
HP





Fuse for 20000 EXP, 30000 for same color. Try and stock up.
Wind, Forest, Fr & Mt.-Legend
50
42187-54881

(971/Sta)

7
18488-28159

(466/Sta)
Samurai Ogre
13500
3
61500
0
Lv10

Low Fire Ninja
4331
1
8133
2667
Lv7

Mid Fire Ninja
2745
1
12
60000
Lv7

Low Light Ninja
4433
1
8540
2667
Lv7

Manekimewdra

Skill

1
10
600000
Lv1

Kodama
8430
3
38550
0
Lv10


Invade

Flame Chaser

Skill

1
647400
4800
Lv10
100%


Chase Mode ATK→10920 for 5 turns.
HP50%↓:100% chance.

1
Fixed Enemies: ×2  ×2
4
Mitsuki, the Flame Fox
5653
1
1029236
210
10k
20k

6
Fixed Enemies: ×2  
7
Fire Samurai Dragon, Shingen
14010
2
2033400
1120
Lv10
100%

Wind, Forest, Fr & Mt.-Master
40
30977

(774/Sta)

7
14564

(364/Sta)
Samurai Ogre
9150
3
41683
0
Lv7

Low Fire Ninja
2958
1
5556
2444
Lv5

Mid Fire Ninja
1875
1
10
60000
Lv5

Low Light Ninja
3028
1
5833
2444
Lv5

Manekimewdra

Skill

1
5
600000
Lv1

Kodama
3903
3
17847
0
Lv5


Invade

Flame Chaser

Skill

1
438793
3360
Lv7
100%


Chase Mode ATK→7402 for 5 turns.
HP50%↓:100% chance.

1
Fixed Enemies:     
4
Mitsuki, the Flame Fox
3030
1
551671
126
5k
10k

6
Fixed Enemies: ×2  
7
Fire Samurai Dragon, Shingen
7991
2
1159791
672
Lv6
40%

Wind, Forest, Fr & Mt.-Expert
25
7715-9611

(347/Sta)

7
4024-5950

(199/Sta)
Samurai Goblin
2028
3
7431
70
Lv5

Samurai Ogre
3350
3
15261
0
Lv3

Low Fire Ninja
899
1
1689
2111
Lv2

Manekimewdra
152
1
2
600000
Lv1

Kodama
1186
3
5426
0
Lv2


Invade

Flame Chaser
768
1
91116
960
Lv2
100%

6
Echidna
5040
2
144300
240
Lv10

Naga
810
2
11700
80
Lv10

7
Fire Samurai Dragon, Shingen
1972
2
286182
224
Lv2

Wind, Forest, Fr & Mt.-Int
15
2364-4240

(220/Sta)

5
1361-2611

(132/Sta)
Red Goblin
462
4
1112
18
Lv6

Red Ogre
1181
5
5647
0
Lv6

Low Fire Ninja
213
1
400
2000
Lv1

Manekimewdra
36
1
1
600000
Lv1

Kodama
281
3
1285
0
Lv1


Invade

Flame Chaser
182
1
21580
480
Lv1
100%

7
Fire Samurai Dragon, Shingen
467
2
67780
112
Lv1

Biweekly Dungeon
---
Insect Dragon
---
Dragon Princess
---
Flower Dragons
---
Pirate Dragons
---
Artifact Dragons
---
Samurai Dragons
---
Ancient Dragons
---
Mechdragons
---
Sky Dragons
---
Legendary Dragons
---
---
Twitter Survey
---
Others