| Dungeon Data | | Sample Teams |
| --- | --- | --- |
Monster Data
No. 977
Gold Pirate Dragon, Anne & Mary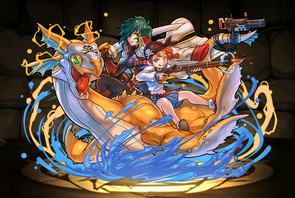 Another 2-Girls-in-1 Card

 No Evolution Needed
Skill


L. Skill



HP



Attack



Recover

Overall



In today's world of 3x ATK, conditional 2.5x is only practical for new/low rank non-IAP players, yet they cannot use it due to its high cost and being hard to get. Overall more collectible girls than actually useful.
No. 903
Lightning Chaser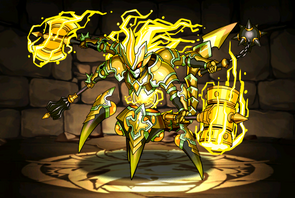 Skill

L. Skill



HP

Attack

Recover

Overall


Skill up fodder for

Voice of God, Metatron
. Also useful in


teams for cost-limited dungeons to help with physical teams' low RCV.
Monster Skill Table
Some monsters in this dungeon can be used to level up the skills of other monsters. See Monster Skills for info.
Gold Cove-Legend
50
15920-29280

(452/Sta)

5
13710-21370

(351/Sta)
Except the boss, may drop 5000/10000.
Marine Goblin
9520
3
34844
280
Lv20

Harpie Devil
3600
1
19650
1400
Lv10


Anger ATK→4680 for 3 turns.
40% chance.

Harpie Demon
5550
1
51150
2200
Lv10

Gold Pirate
5940
1
38550
1400
Lv10

Preemptive. Skill used based on board layout.

Flash Edge → and hit for 4752.
Used every other turn.

Rare

Green Pirate

Skill

1
38550
1400
Lv10


Invade

Lightning Chaser

Skill

1
654900
4800
Lv10
100%


Chase Mode ATK→10440 for 5 turns.
HP50%↓:100% chance.

5
Gold Pirate Dragon, Anne & Mary
8370
1
3156900
4600
Lv10
100%


HP49%↓:Use the following skills:
Gold Cove-Master
40
12328-16000

(354/Sta)

5
9668-11327

(262/Sta)
May drop 3000/5000.
Marine Goblin
7055
3
25822
210
Lv15

Harpie Devil
2440
1
13318
980
Lv7


Anger ATK→3172 for 3 turns.
40% chance.

Harpie Demon
3762
1
34668
1540
Lv7

Gold Pirate
4026
1
26128
980
Lv7

Preemptive. Skill used based on board layout.

Flash Edge → and hit for 3221.
Used every other turn.

Rare

Green Pirate

Skill

1
26128
980
Lv7


Invade

Lightning Chaser

Skill

1
443877
3360
Lv7
100%


Chase Mode ATK→7076 for 5 turns.
HP50%↓:100% chance.

5
Gold Pirate Dragon, Anne & Mary
5673
1
2139677
3220
Lv7
40%


HP49%↓:Use the following skills:
Gold Cove-Expert
25
3568-7904

(229/Sta)

5
2732-3189

(118/Sta)
May drop 2000/3000.
Topaz Carbuncle
464
2
1372
28
Lv2

Blue Goblin
900
4
2250
30
Lv10

White Fighter
895
3
3887
80
Lv8


Rare

Gold Pirate
836
1
5426
280
Lv2

Green Pirate
836
1
5426
280
Lv2

5
Gold Pirate Dragon, Anne & Mary
1178
1
444304
920
Lv2
5%

Gold Cove-Int
15
1640-6640

(276/Sta)

5
1365-1689

(102/Sta)
May drop 1000/2000.
Blue Goblin
417
4
1042
15
Lv5

White Fighter
528
3
2292
50
Lv5

Topaz Carbuncle
110
2
325
14
Lv1


Rare

Gold Pirate
198
1
1285
140
Lv1

Green Pirate
198
1
1285
140
Lv1

5
Gold Pirate Dragon, Anne & Mary
279
1
105230
460
Lv1
2%

Biweekly Dungeon
---
Insect Dragon
---
Dragon Princess
---
Flower Dragons
---
Pirate Dragons
---
Artifact Dragons
---
Samurai Dragons
---
Ancient Dragons
---
Mechdragons
---
Sky Dragons
---
Legendary Dragons
---
---
Twitter Survey
---
Others