This dungeon's Novice and Int levels are very easy, but the stamina-to-EXP ratio is fairly low. However, there's a low chance of encountering
Vampire.
Expert difficulty is fairly challenging for new players, but it is definitely worth trying for the chance of getting
Vampire.
Warning!
Light Orbs will not appear in this dungeon.
---
Novice is extremely easy; even new players will be fine. Int is not too difficult; those who have reached Tower of Giants should be able to beat it easily. Expert is significantly harder than Int; please reference the data below to avoid wasting stamina.
Dungeon History
| Dates | Notes |
| --- | --- |
| January 3-5, 2014 | Merry Christmastide! |
| March 10-16, 2014 | St. Patrick's Day |
Monster Data
No. 894
Dark Liege, Vampire Duke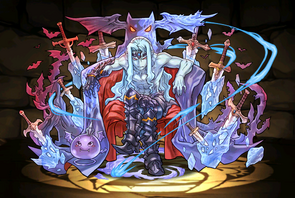 The Original Sultry Shirtless Vampire
Skill




L. Skill



HP



Attack



Recover



Overall





A key element of dark teams due to its well-rounded stats and perfect, easily leveled Active Skill. This is a monster every player should have. His new Ultimate dual-element and leader skill now completely surpasses

Moondragon Lunar D'spinas
as the premier farmable mono-Dark leader.
No. 895
Arcane Monarch, Vampire Duke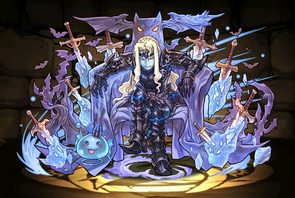 Now with 100% more shirt!
Skill




L. Skill



HP





Attack



Recover


Overall





An intriguing swap to Water as his main element and a leader skill granting 3x ATK to Dark attribute monsters makes for some exciting, powerful mono-Dark possibilities.
Lightless-Expert
15
5464-6064

(384/Sta)

5
2558-2596

(172/Sta)
Samurai Goblin
3439
4
12602
112
Lv8

Pyro Devil
1611
1
8819
700
Lv5

Marine Goblin
3604
4
13191
112
Lv8

Frost Devil
1625
1
8889
700
Lv5

Hobgoblin
3792
4
13780
112
Lv8

Taur Devil
1653
1
8958
700
Lv5

Harpie Devil
1667
1
9097
700
Lv5

Blood Devil
1708
1
9167
700
Lv5


Rare

Lil' Black Dragon
1770
3
17100
40
Lv10

Vampire
3863
3
71727
144
Lv8

5
Frost Demon×2
3721
2
32635
1540
Lv7

Vampire Lord
6690
3
472760
560
Lv8

Lightless-Int
15
1152-1560

(90/Sta)

5
575-758

(44/Sta)
Red Goblin
201
4
484
9
Lv3

Pyro Devil
864
1
4727
420
Lv3

Blue Goblin
223
4
558
9
Lv3

Frost Devil
871
1
4764
420
Lv3

Goblin
261
4
670
9
Lv3

Taur Devil
886
1
4802
420
Lv3

Harpie Devil
893
1
4876
420
Lv3

Blood Devil
916
1
4913
420
Lv3


Rare

Lil' Black Dragon
439
3
4243
12
Lv3

Vampire
1221
3
22668
54
Lv3

5
Pyro Devil
864
1
4727
420
Lv3

Frost Devil
871
1
4764
420
Lv3

Taur Demon
1407
2
12321
660
Lv3

Lightless-Novice
15
416-448

(29/Sta)

5
212-260

(16/Sta)
Red Goblin
27
4
65
3
Lv1

Pyro Devil
116
1
635
140
Lv1

Blue Goblin
30
4
75
3
Lv1

Frost Devil
117
1
640
140
Lv1

Goblin
35
4
90
3
Lv1

Taur Devil
119
1
645
140
Lv1

Harpie Devil
120
1
655
140
Lv1

Blood Devil
123
1
660
140
Lv1


Rare

Lil' Black Dragon
59
3
570
4
Lv1

Vampire
164
3
3045
18
Lv1

5
Frost Devil
117
1
640
140
Lv1

Taur Devil
119
1
645
140
Lv1

Pyro Demon
182
2
1555
220
Lv1

Biweekly Dungeon
---
Insect Dragon
---
Dragon Princess
---
Flower Dragons
---
Pirate Dragons
---
Artifact Dragons
---
Samurai Dragons
---
Ancient Dragons
---
Mechdragons
---
Sky Dragons
---
Legendary Dragons
---
---
Twitter Survey
---
Others