This dungeon is the third in the Artifact Dragon series, which are based on various mysterious historical artifacts and sites. This dragon is named after the Nebra sky disc, a bronze-age artifact discovered in Germany.
Note: this dungeon has no Light Orbs. The boss has super-high defense AND a preemptive status shield, so he can't be poisoned or armor-broken. However, he can be one-shot by a monster with an active skill that ignores defense, such as

or even

.
Monster Data
No. 786
Mystic Astro Dragon, Nebradisk






 No Evolution Needed
Skill


L. Skill




HP



Attack



Overall




Active Skill is another leader swap. Leader skill is damage reduction at full HP like

, but only 75% reduction instead of 80%, and its RCV is 0 so be careful when building a team around it.
No. 588
Midnight Beast Werewolf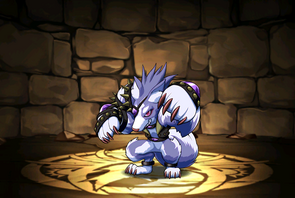 Skill

L. Skill

HP

Attack

Recover

Overall

Active Skill causes 35000 Dark-type damage to Light enemies, a weaker version of

's skill. Leader Skill gives 2x HP to Dark type monsters, which is not very useful now but may be helpful in future Cost-limited or Rarity-limited dungeons.
Monster Skill Table
Some monsters in this dungeon can be used to level up the skills of other monsters. See Monster Skills for info.
Disc of Ephemeris-Legend
50
23120-25120

(482/Sta)

7
11940-12895

(248/Sta)

100000
Blood Devil
3690
1
19800
1400
Lv10


Anger ATK→4797 for 3 turns.
40% chance.

Blood Demon
5580
1
52650
2200
Lv10

Mist Chimera
8100
2
37500
500
Lv10

Wicked Lady
5460
2
31200
160
Lv10


Slap 6825
75% chance.

Invade

Cerberus, the Guardian of Hell
21025
3
307338
322
Lv7
100%

1/5
Werewolf×2
3510
2
20
600000
Lv10


Howl of Anger ATK→10530 for 10 turns.
100% chance when 1 monster remains.

Charming Temptress, Wicked Lady
5760
1
317250
300
Lv10


Charm Bind 5 for 1–2 turn.
HP29%↓: 100% chance. 1 time max

7
Mystic Astro Dragon, Nebradisk
7260
1
35
600000
Lv10
100%

Disc of Ephemeris-Master
40
15736-17612

(417/Sta)

7
8225-9099

(217/Sta)
Blood Devil
2501
1
13420
980
Lv7


Anger ATK→3251 for 3 turns.
40% chance.

Blood Demon
3782
1
35685
1540
Lv7

Mist Chimera
5490
2
25417
350
Lv7

Wicked Lady
3701
2
21147
112
Lv7


Slap 4626
75% chance.

Invade

Cerberus, the Guardian of Hell
21025
3
307338
322
Lv7
100%

1/5
Werewolf×2
2379
2
17
600000
Lv7


Howl of Anger ATK→7137 for 10 turns.
100% chance when 1 monster remains.

Charming Temptress, Wicked Lady
3904
1
215025
210
Lv7


Charm Bind 5 for 1–2 turn.
HP29%↓: 100% chance. 1 time max

7
Mystic Astro Dragon, Nebradisk
4921
1
27
600000
Lv7
40%

Disc of Ephemeris-Expert
25
4800-5088

(198/Sta)

7
2522-2642

(103/Sta)
Black Fighter
1060
3
4122
80
Lv8

Black Knight
756
2
3779
54
Lv2

Wicked Lady
768
2
4391
32
Lv2


Invade

Cerberus, the Guardian of Hell
4366
3
63819
92
Lv2
100%

5
Charming Temptress, Wicked Lady
1429
1
78725
90
Lv3

7
Mystic Astro Dragon, Nebradisk
1022
1
13
600000
Lv2
5%

Disc of Ephemeris-Int
15
1872-2040

(130/Sta)

5
1059-1112

(72/Sta)
Black Fighter
625
3
2431
50
Lv5

Black Knight
179
2
895
27
Lv1

Wicked Lady
182
2
1040
16
Lv1


Invade

Cerberus, the Guardian of Hell
1034
3
15115
46
Lv1
100%

5
Mystic Astro Dragon, Nebradisk
242
1
10
600000
Lv1
2%

Biweekly Dungeon
---
Insect Dragon
---
Dragon Princess
---
Flower Dragons
---
Pirate Dragons
---
Artifact Dragons
---
Samurai Dragons
---
Ancient Dragons
---
Mechdragons
---
Sky Dragons
---
Legendary Dragons
---
---
Twitter Survey
---
Others