This dungeon is the first in the Mystery Dragon series, which are based on various mysterious historical artifacts and sites. This dragon is named after the ancient city Baalbek, or Heliopolis.
Note: this dungeon has no Water Orbs. A Fire resist leader will make the boss's 99% Gravity attack much easier to handle.
Monster Data
No. 782
Mystic Megalith Dragon, Baalbek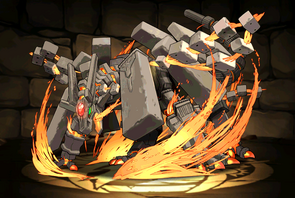 No Evolution Needed
Skill


L. Skill


HP



Attack



Recover

Overall



Active Skill is another leader swap. Although Leader Skill is 3x ATK, it requires HP being below 50% to activate. Stats are much lower than the War Dragons. Overall, more worth collecting than using.
No. 788
Beast of the Labyrinth, Minotaur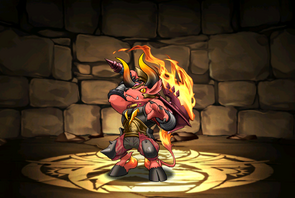 Skill


L. Skill

HP

Attack


Overall


Primarily used for skilling up

. He drops evolved from certain levels of the dungeon, so don't bother evolving him except as a last resort. Leader skill might be okay for limited-cost dungeons.
Monster Skill Table
Some monsters in this dungeon can be used to level up the skills of other monsters. See Monster Skills for info.
Miracle Stone-Legend
50
20320-22920

(432/Sta)

7
11575-12375

(240/Sta)
Pyro Devil
3480
1
19050
1400
Lv10


Anger ATK→4524 for 3 turns.
40% chance.

Pyro Demon
5460
1
46650
2200
Lv10

Flame Chimera
7650
2
34500
500
Lv10

Minotaur
10260
4
68700
160
Lv10

5
Beast of the Labyrinth, Minotaur×2
11040
3
527250
300
Lv10


Binding Move Bind 1 for 10 turns.
HP9%↓: 100% chance, 1 time max.

7
Mystic Megalith Dragon, Baalbek
14220
2
2189400
820
Lv10
100%


Meteor Storm Multi-Hit (5-7) 14220–19908
HP29%↓: 100% chance
Miracle Stone-Master
40
14672-15288

(375/Sta)

7
8099-8345

(206/Sta)
Pyro Devil
2359
1
12912
980
Lv7


Anger ATK→3067 for 3 turns.
40% chance.

Pyro Demon
3701
1
31618
1540
Lv7

Flame Chimera
5185
2
23383
350
Lv7

Minotaur
6954
4
46563
112
Lv7

5
Beast of the Labyrinth, Minotaur×2
7483
3
357358
210
Lv7


Binding Move Bind 1 for 10 turns.
HP9%↓: 100% chance, 1 time max.

7
Mystic Megalith Dragon, Baalbek
9638
2
1483927
574
Lv7
40%

Miracle Stone-Expert
25
4656-4992

(193/Sta)

7
2461-2597

(101/Sta)
Flame Fighter
895
3
2944
80
Lv8

Flame Knight
692
2
3357
54
Lv2

Minotaur
1444
4
9669
32
Lv2

5
Beast of the Labyrinth, Minotaur
2740
3
130836
90
Lv3

7
Mystic Megalith Dragon, Baalbek
2001
2
308138
164
Lv2
5%

Miracle Stone-Int
15
1824-1992

(127/Sta)

5
1042-1108

(72/Sta)
Flame Fighter
528
3
1736
50
Lv5

Flame Knight
164
2
795
27
Lv1

Minotaur
342
4
2290
16
Lv1

5
Mystic Megalith Dragon, Baalbek
474
2
72980
82
Lv1
2%

Biweekly Dungeon
---
Insect Dragon
---
Dragon Princess
---
Flower Dragons
---
Pirate Dragons
---
Artifact Dragons
---
Samurai Dragons
---
Ancient Dragons
---
Mechdragons
---
Sky Dragons
---
Legendary Dragons
---
---
Twitter Survey
---
Others