This dungeon is the last in the Artifact Dragon series, which are based on various mysterious historical artifacts and sites. This dragon is named after the crystal skull, a supposedly pre-Columbian artifact.
Note: this dungeon has no Dark Orbs.
Monster Data
No. 785
Mystic Crystal Dragon, CrystalSkull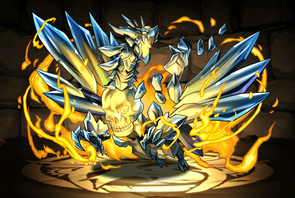 No Evolution Needed
Skill


L. Skill


HP



Attack



Recover


Overall



Though its Leader Skill is the strongest among unconditional resists, it's still better to use a particular color's 50% resist if you need it.
No. 586
Light Sprite Pixie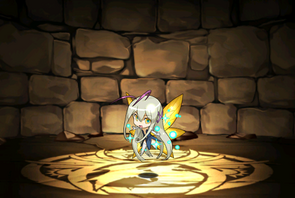 Skill

L. Skill

HP

Attack

Recover


Overall

Active Skill causes 35000 Light-type damage to Dark enemies. Leader Skill gives 2x HP to Light type monsters, which is not very useful now but may be helpful in future Cost-limited or Rarity-limited dungeons.
Monster Skill Table
Some monsters in this dungeon can be used to level up the skills of other monsters. See Monster Skills for info.
Hollow Crystals-Legend
50
22760-24440

(472/Sta)

7
11985-12685

(247/Sta)
Harpie Devil
3600
1
19650
1400
Lv10


Anger ATK→4680 for 3 turns.
40% chance.

Harpie Demon
5550
1
51150
2200
Lv10

Volt Chimera
7890
2
36000
500
Lv10

Cyclops
10260
3
136200
0
Lv10


Invade

Unicorn, the Guardian of Saints
13664
2
256505
322
Lv7
100%

2/5
Pixie×2
3060
2
12
600000
Lv10

Thunder Giant, Cyclops
15090
3
902250
0
Lv10


Heavy Blow Cut player HP by 75%.
HP50%↑:50% chance.

HP49%↓: Uses below 2 skills in sequence.

7
Mystic Crystal Dragon, CrystalSkull
11760
2
1158200
35000
Lv10

Hollow Crystals-Master
40
16744-17304

(426/Sta)

7
8710-8998

(221/Sta)
Harpie Devil
2440
1
13318
980
Lv7


Anger ATK→3172 for 3 turns.
40% chance.

Harpie Demon
3762
1
34668
1540
Lv7

Volt Chimera
5348
2
24400
350
Lv7

Cyclops
6954
3
92313
0
Lv7


Invade

Unicorn, the Guardian of Saints
13664
2
256505
322
Lv7
100%

2/5
Pixie×2
2074
2
9
600000
Lv7

Thunder Giant, Cyclops
10228
3
611525
0
Lv7


Heavy Blow Cut player HP by 75%.
HP50%↑:50% chance.

HP49%↓: Uses below 2 skills in sequence.

7
Mystic Crystal Dragon, CrystalSkull
7971
2
772137
23667
Lv7

Hollow Crystals-Expert
25
4752-4992

(195/Sta)

7
2522-2597

(102/Sta)
White Fighter
895
3
3887
80
Lv8

White Knight
743
2
3673
54
Lv2

Cyclops
1444
3
19169
0
Lv2


Invade

Unicorn, the Guardian of Saints
2837
2
53263
92
Lv2
100%

5
Thunder Giant, Cyclops
3745
3
223892
0
Lv3

7
Mystic Crystal Dragon, CrystalSkull
1655
2
128698
4778
Lv2

Hollow Crystals-Int
15
1824-2088

(130/Sta)

5
1029-1142

(72/Sta)
White Fighter
528
3
2292
50
Lv5

White Knight
176
2
870
27
Lv1

Cyclops
342
3
4540
0
Lv1


Invade

Unicorn, the Guardian of Saints
672
2
12615
46
Lv1
100%

5
Mystic Crystal Dragon, CrystalSkull
392
2
10
1000
Lv1

Biweekly Dungeon
---
Insect Dragon
---
Dragon Princess
---
Flower Dragons
---
Pirate Dragons
---
Artifact Dragons
---
Samurai Dragons
---
Ancient Dragons
---
Mechdragons
---
Sky Dragons
---
Legendary Dragons
---
---
Twitter Survey
---
Others