| Dungeon Data | | Sample Teams |
| --- | --- | --- |
Warning!
This dungeon has no Heart Orbs, and no way to recover HP. This raises the dungeon difficulty significantly. You need to carefully consider your moves so that every round deals damage, and clear out enemies that are about to attack if possible.
---
There are 10 battles in this dungeon, so take care to prep your skills before the boss battle. Due to lack of recovery, try to stall on early weak monsters, and be sure to keep an eye on HP.
---
The final boss
Orange Flower Dragon, Helianthus attacks every round. Since there are no Heart Orbs, there are two strategies: either kill it quick before it kills you, or wear it down with an auto-healer. Since this is a Technical dungeon, it is much harder than the Sky Dragon dungeon of the same element.
Monster Data
No. 1169
Orange Flower Dragon, Helianthus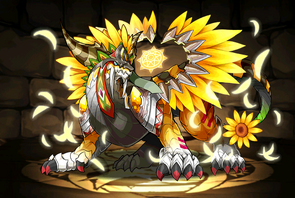 No Evolution Needed
L. Skill



HP




Attack


Recover




Overall



華龍系列的主動技能,隊長技能都十分雞肋,不過擁有全龍系最高的恢復力,可以緩解龍隊悲慘的恢復力問題
Monster Skill Table
Some monsters in this dungeon can be used to level up the skills of other monsters. See Monster Skills for info.
Orange Backwater-Legend
50
42880-45952

(888/Sta)

10
17684-20588

(383/Sta)

100000
Armor Ogre
10953
3
49467
0
Lv8

Volt Chimera
6195
2
28267
400
Lv8

Gold Moltdra
5842
2
71256
80
Lv8


Rare

Puchianthus
3816
1
42164
0
Lv8


Invade

Light Sprite, Sunrich
3722
1
1179544
240
Lv8


HP49%↓: Use the following skills in order:

5
Flower Chimera
8059
2
471753
840
Lv6

Thunder Chimera
8453
2
484587
840
Lv6

9
Yellow Sky Fruit, Lemon Dragon

Skill

1
1188378
640
20k


Lemon Shower → and hit for 9540.
100% chance if no are present.

10
Orange Flower Dragon, Helianthus

Skill

1
2949862
0
Lv8
100%


Soul Howling Bind for 3 turns.
HP74%↓: 100% chance. 1 time max. Skipped if no present.

HP50%↑: Use the following skills:

HP49%↓: Use the following skills in order:
Orange Backwater-Master
40
25500-25740

(641/Sta)

10
11073-11200

(278/Sta)
Armor Ogre
6458
3
29167
0
Lv5

Volt Chimera
3653
2
16667
250
Lv5

Gold Moltdra
3444
2
42014
0
Lv5


Rare

Puchianthus
2250
1
24861
0
Lv5


Invade

Light Sprite, Sunrich
2194
1
695486
150
Lv5


HP49%↓: UseS the following skills in order:

5
Flower Chimera
3506
2
205243
420
Lv3

Thunder Chimera
3678
2
210827
840
Lv3

9
Yellow Sky Fruit, Lemon Dragon

Skill

1
700694
640
10k

10
Orange Flower Dragon, Helianthus

Skill

1
1739306
0
Lv5
40%


Soul Howling Bind for 3 turns.
HP74%↓: 100% chance. 1 time max. Skipped if no present.

HP50%↑: UseS the following skills:

HP49%↓: UseS the following skills in order:
Orange Backwater-Expert
25
10512-10984

(430/Sta)

7
3330-3989

(146/Sta)
Ogre
1566
5
7727
0
Lv7

Volt Chimera
0
2
0
0
Lv0

Gold Moltdra
1047
2
12772
20
Lv2


Rare

Puchianthus
684
1
7558
0
Lv2


Invade

Light Sprite, Sunrich
667
1
211428
60
Lv2

5
Yellow Sky Fruit, Lemon Dragon
1140
1
213011
160
5k

7
Orange Flower Dragon, Helianthus
1368
1
528649
0
Lv2
5%

Orange Backwater-Int
15
1548-1704

(108/Sta)

5
1291-1341

(88/Sta)
Ogre
573
5
2829
0
Lv3

Volt Chimera
263
2
1200
50
Lv1

Gold Moltdra
248
2
3025
10
Lv1


Rare

Puchianthus
162
1
1790
0
Lv1


Invade

Light Sprite, Sunrich
158
1
50075
30
Lv1

5
Orange Flower Dragon, Helianthus
324
1
125230
0
Lv1

Biweekly Dungeon
---
Insect Dragon
---
Dragon Princess
---
Flower Dragons
---
Pirate Dragons
---
Artifact Dragons
---
Samurai Dragons
---
Ancient Dragons
---
Mechdragons
---
Sky Dragons
---
Legendary Dragons
---
---
Twitter Survey
---
Others