The final installation in the Sky Dragon Biweekly Dungeon series! You can acquire
Night Skydragon, Elysion, a high-damage ATK dragon. It's stronger than
Moondragon D'spinas in the difficult late-game dungeons.
Warning!
This dungeon has no Heart Orbs, and no way to recover HP. This raises the dungeon difficulty significantly. You need to carefully consider your moves so that every round deals damage, and clear out enemies that are about to attack if possible.
---
There are 10 battles in this dungeon, so take care to prep your skills before the boss battle. Due to lack of recovery, try to stall on early weak monsters, and be sure to keep an eye on HP.
---
The final boss
Night Skydragon, Elysion attacks every turn. Since there are no Heart Orbs, there are two strategies: either kill it quick before it kills you, or wear it down with an auto-healer. Most common players should go with a suitable auto-heal strategy.
---
All enemies are dark type in this dungeon, so light-type team members will make it easier to clear mobs.
Monster Data
[
]
No. 220
Night Skydragon, Elysion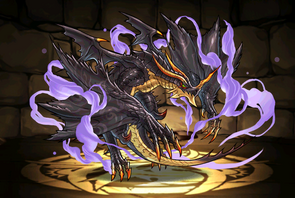 No Evolution Needed
Skill


L. Skill



HP

Attack





Recover

Overall




Dragon that specializes in ATK (highest in the game), but weak in other areas. Main skill is okay for clearing trash mobs, but impotent against high-defense bosses. Leader skill is not very useful due to many similar skills.
No. 407
Cerberus, the Guardian of Hell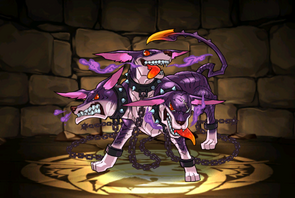 Skill




HP


Attack




Overall




Cerberus has a special orb-enhancing skill that can further increase dark type damage. Keep in mind, however, that its RCV is negative.
Twilight in the Sky-Master

[

]
50
24032–24288

(483 / Sta)

10
14214–14294

(285 / Sta)
| | | | | | | | |
| --- | --- | --- | --- | --- | --- | --- | --- |
| | Black Knight | 4216 | 2 | 21082 | 216 | Lv8 | |
| | Blood Devil | 2897 | 1 | 15547 | 1120 | Lv8 | |
| Rare | Mystic Dark Knight | 5276 | 3 | 59949 | 720 | Lv8 | |
| Invade | Cerberus, the Guardian of Hell | 21025 | 3 | 307338 | 322 | Lv7 | 100% |
| 5 | Devil Dragon | 3600 | 3 | 54750 | 450 | Lv10 | |
| 9 | Lilith×2 | 4664 | 2 | 136858 | 192 | Lv8 | |
| 10 | Night Skydragon, Elysion | 6570 | 1 | 906900 | 920 | Lv10 | 40% |
Twilight in the Sky-Expert

[

]
25
15176–17096

(645 / Sta)

10
8679–9558

(365 / Sta)
Rare

Lil' Black Dragon
1770
3
17100
40
Lv10
Amethyst Carbuncle
1611
2
4653
70
Lv5
Black Knight
2486
2
12431
135
Lv5
Blood Devil
1312
1
7040
560
Lv4

Rare

Mystic Dark Knight
3111
3
35347
450
Lv5
5
Devil Dragon
1280
3
19467
180
Lv4
9
Succubus×2
1170
2
14700
80
Lv10
Lilith
2112
2
61973
96
Lv4
10
Night Skydragon, Elysion
4453
1
614677
644
Lv7
5%
Twilight in the Sky-Int

[

]
15
6400–7000

(447 / Sta)

10
3637–3805

(248 / Sta)
Biweekly Dungeon
---
Insect Dragon
---
Dragon Princess
---
Flower Dragons
---
Pirate Dragons
---
Artifact Dragons
---
Samurai Dragons
---
Ancient Dragons
---
Mechdragons
---
Sky Dragons
---
Legendary Dragons
---
---
Twitter Survey
---
Others