The fifth dungeon designed based on Twitter player surveys. You can pick up the very popular

Mystic Flame Knight.
Dungeon History
| Dates | Notes |
| --- | --- |
| December 26, 2013 | Merry Christmastide! |
| March 7-8, 2014 | Weekend Blades |
Monster Data
No. 822
Burning Phoenix Knight, Homura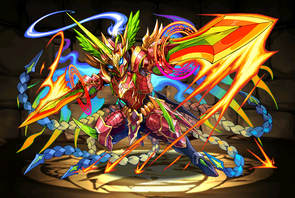 Skill





L. Skill

HP



Attack



Recover



Overall



A must-have sub for Fire teams due to its orb changing active skill. Leader skill is 2x RCV and ATK for balanced types, which is an improvement from before but still pretty useless. Overall, a worthwhile monster.
Sword of Flames-Expert
15
6956-7656

(487/Sta)

5
3401-3695

(237/Sta)
Flame Knight
2278
2
11042
135
Lv5

Pyro Devil
1611
1
8819
700
Lv5

Divine Carmine Mask
9999
5
18
60000
Lv1


Rare

Mystic Flame Knight
3000
3
35347
450
Lv5

5
Phoenix Knight×3
4876
4
154642
520
Lv8

Sword of Flames-Int
15
3412-3592

(233/Sta)

5
1675-1855

(118/Sta)
Flame Fighter
1140
3
3750
100
Lv10

Pyro Devil
864
1
4727
420
Lv3

Crimson Demon Mask
2406
8
15
4000
Lv1


Rare

Mystic Flame Knight
1608
3
18946
270
Lv3

5
Phoenix Knight×2
2208
4
70027
260
Lv4

Sword of Flames-Novice
15
814-836

(55/Sta)

5
422-472

(30/Sta)
Flame Fighter
38
3
125
10
Lv1

Pyro Devil
116
1
635
140
Lv1

Red Evolution Mask
228
1
5
1000
Lv1


Rare

Mystic Flame Knight
216
3
2545
90
Lv1

5
Phoenix Knight
874
4
27719
130
Lv2

Biweekly Dungeon
---
Insect Dragon
---
Dragon Princess
---
Flower Dragons
---
Pirate Dragons
---
Artifact Dragons
---
Samurai Dragons
---
Ancient Dragons
---
Mechdragons
---
Sky Dragons
---
Legendary Dragons
---
---
Twitter Survey
---
Others