| Dungeon Data | | Sample Teams |
| --- | --- | --- |
Characteristics
No duplicate team members allowed, including Leaders.
Monster Data
No. 1363
Heavenly Wind Dragon Knight, Ishtar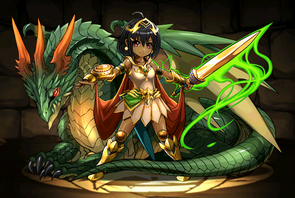 彪悍父親守護的黑肉蘿莉
 No Evolution Needed
Skill


L. Skill


HP





Attack



Recover

Overall



Monster Skill Table
Some monsters in this dungeon can be used to level up the skills of other monsters. See Monster Skills for info.
Ancient Wind-Legend
50
36242-38850

(751/Sta)

7
12883-14785

(277/Sta)

100,000
Hobgoblin
6386
3
23205
182
Lv13

Armor Ogre
13950
3
63000
0
Lv10

Taur Demon
5670
1
49650
2200
Lv10


Rare

Winron
5460
1
105900
120
Lv10


Petit Wind → and hit for 4368.
Use every other turn.

Invade

Wood Sprite, Lily
3050
1
905138
0
Lv7


HP49%↓: Use the following skills in order:

1
Taur Devil×3
3570
1
19350
1400
Lv10


Anger ATK→4641 for 3 turns.
40% chance.

Blood Devil×2
5580
1
19800
1400
Lv10


Anger ATK→7254 for 3 turns.
40% chance.

3
Flame Armor Ogre
12840
3
414750
1500
Lv10


Water Bind Bind for 2–4 turns.
HP50%↑: 100% chance, 1 time max.

Ice Armor Ogre
12840
3
414750
1500
Lv10

5
Wood Sage Treant
29319
4
17845
54000
Lv5


Coiled Root Bind 3 for 1–3 turn.
HP25%↓: 100% chance, 1 time max.

Winron×2
5460
1
105900
120
Lv10


Petit Wind → and hit for 4368.
Use every other turn.

6
Marine Rider Robin
6840
1
1128300
440
16k


Leg Snipe 3420 and bind Leader for 2 turns.
HP50%↑: Use every other turn.

Critical Arrow 10260
HP49%↓: Used when other skills are not activated.

7
Heavenly Wind Dragon Knight, Ishtar
5220
1
2522250
0
Lv10
100%


HP30%↑: Use the following skills in order repeatedly:

HP29%↓: Use the following skills in order repeatedly:
Ancient Wind-Master
40
22914-23230

(577/Sta)

7
9191-9294

(231/Sta)
Hobgoblin
4830
3
17550
140
Lv10

Armor Ogre
9455
3
11400
0
Lv7

Taur Demon
3843
1
33652
1540
Lv7


Rare

Winron
3701
1
71775
84
Lv7


Petit Wind → and hit for 2961.
Used every other turn.

Invade

Wood Sprite, Lily
3050
1
905138
0
Lv7


HP49%↓: Use the following skills in order:

1
Taur Devil×3
2420
1
13115
980
Lv7


Anger ATK→3146 for 3 turns.
40% chance.

Blood Devil×2
2501
1
13420
980
Lv7


Anger ATK→3251 for 3 turns.
40% chance.

3
Flame Armor Ogre
8703
3
281110
1050
Lv7


Water Bind Bind for 2–4 turns.
HP50%↑: 100% chance, 1 time max.

Ice Armor Ogre
8703
3
281110
1050
Lv7

5
Wood Sage Treant
15715
4
9570
54000
Lv3


Coiled Root Bind 3 for 1–3 turn.
HP25%↓: 100% chance, 1 time max.

Winron×2
3701
1
71775
84
Lv7


Petit Wind → and hit for 2961.
Used every other turn.

6
Marine Rider Robin
4636
1
764735
308
8k


Leg Snipe 2318 and bind Leader for 2 turns.
HP50%↑: Used every other turn.

7
Heavenly Wind Dragon Knight, Ishtar
3538
1
1709525
0
Lv7
40%


HP30%↑: Use the following skills in order repeatedly:

HP29%↓: Use the following skills in order repeatedly:
Ancient Wind-Expert
25
9704-10344

(401/Sta)

7
2793-3278

(121/Sta)
Hobgoblin
1199
3
4355
42
Lv3

Ogre
2310
5
11400
0
Lv10

Leaf Chimera
1013
2
4435
100
Lv2


Rare

Winron
768
1
14904
24
Lv2


Invade

Wood Sprite, Lily
633
1
187952
0
Lv2

6
Marine Rider Robin
963
1
15880
88
5k

7
Heavenly Wind Dragon Knight, Ishtar
735
1
354985
0
Lv2
5%

Ancient Wind-Int
15
1572-1584

(105/Sta)

5
866

(58/Sta)
Hobgoblin
161
3
585
12
Lv1

Ogre
573
5
2830
0
Lv3

Leaf Chimera
240
2
1050
50
Lv1


Rare

Winron
182
1
5780
12
Lv1


Invade

Wood Sprite, Lily
150
1
44515
0
Lv1

5
Heavenly Wind Dragon Knight, Ishtar
174
1
84075
0
Lv1
2%

Biweekly Dungeon
---
Insect Dragon
---
Dragon Princess
---
Flower Dragons
---
Pirate Dragons
---
Artifact Dragons
---
Samurai Dragons
---
Ancient Dragons
---
Mechdragons
---
Sky Dragons
---
Legendary Dragons
---
---
Twitter Survey
---
Others