This is the third in the Mechdragon series.
With the addition of the Chasers, this is now a single Technical dungeon which may be cleared for a

even if a

was obtained for clearing the original dungeon configuration.
Monster Data
No. 285
Wind Mechdragon, Canopus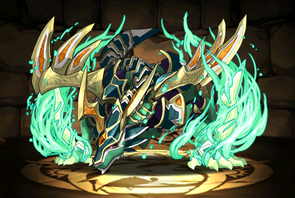 No Evolution Needed
Skill


L. Skill



HP





Attack




Recover

Overall





A legendary dragon with exceptional HP and very high ATK. Active skill is quite good even if not leveled up. Leader skill is not very useful due to many other similar skills.
No. 901
Wind Chaser




Skill




HP



Attack



Recover

Overall


Can be used for low cost dungeons such as

Tengu!!!
.
Monster Skill Table
Some monsters in this dungeon can be used to level up the skills of other monsters. See Monster Skills for info.
Wailing Wind-Legend
50
32760-33600

(664/Sta)

10
19150-19500

(387/Sta)
Armor Ogre
13950
3
63000
0
Lv10

Taur Demon
5670
1
49650
2200
Lv10

Leaf Chimera
7200
2
31500
500
Lv10


Rare

Mystic Stone Knight
6630
3
76350
900
Lv10


Invade

Wind Chaser

Skill

1
651150
4800
Lv10
100%


Chase Mode ATK→10740 for 5 turns.
HP50%↓:100% chance.

5
Flower Chimera
14130
2
827100
1400
Lv10

9
Earth Light Carbuncle×2
11731
2
401858
960
Lv8


Cure Heal 50%.
HP30%↓:50% chance. 1 time max.

10
Wind Mechdragon, Canopus
10620
1
1058400
1120
Lv10
100%

Wailing Wind-Master
40
22608-32280

(686/Sta)

10
12620-13717

(329/Sta)
Armor Ogre
9455
3
42700
0
Lv7

Taur Demon
3843
1
33652
1540
Lv7

{
Leaf Chimera
4880
2
21350
350
Lv7


Rare

Mystic Stone Knight
4494
3
51748
630
Lv7


Invade

Wind Chaser

Skill

1
441335
3360
Lv7
100%


チェイスモード ATK→7280 for 5 turns.
HP50%↓:100% chance

5
Flower Chimera
9577
2
560590
980
Lv7

9
Earth Light Carbuncle×2
6917
2
236944
600
Lv5


Cure Heal 50%.
HP30%↓:50% chance. 1 time max.

10
Wind Mechdragon, Canopus
7198
1
717360
784
Lv7
40%

Wailing Wind-Expert
25
5976-6344

(246/Sta)

10
3299-3484

(136/Sta)
Emerald Carbuncle
452
2
1351
28
Lv2

Earth Fighter
1036
3
3416
80
Lv8

Earth Knight
722
2
3568
54
Lv2


Invade

Wind Chaser
756
1
91643
960
Lv2
100%

5
Dryad×2
458
2
6111
40
Lv5

Mandrake
2542
2
73750
120
Lv5

7
Wind Mechdragon, Canopus
1495
1
148960
224
Lv2
5%

Wailing Wind-Int
15
2168-2488

(155/Sta)

5
1290-1426

(91/Sta)
Emerald Carbuncle
107
2
320
14
Lv1

Earth Fighter
611
3
2014
50
Lv5

Earth Knight
171
2
845
27
Lv1


Invade

Wind Chaser
179
1
21705
480
Lv1
100%

5
Wind Mechdragon, Canopus
354
1
35280
112
Lv1
2%

Biweekly Dungeon
---
Insect Dragon
---
Dragon Princess
---
Flower Dragons
---
Pirate Dragons
---
Artifact Dragons
---
Samurai Dragons
---
Ancient Dragons
---
Mechdragons
---
Sky Dragons
---
Legendary Dragons
---
---
Twitter Survey
---
Others